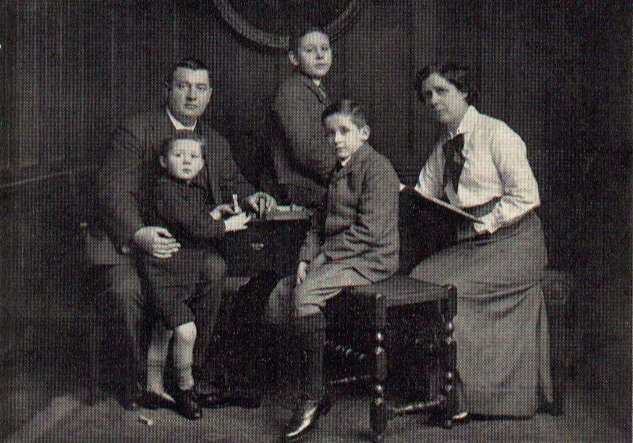 {clockwise}
Robert, Charles (age 12), Eliza, Tom (age 8), Frank (age 4)
circa 1911
Charles was the eldest son of Robert and Eliza Laughton (nee Coulon). Born 1 July, 1899, four years after his birth, his brother, Robert Thomas was born, followed by Francis, four years later. All three sons were born at the Victoria Hotel (Scarborough, N. Yorkshire), where their parents were the proprietors. In 1908, the family purchased the more upscale and grander, Pavilion Hotel, which was located right across the street from the Victoria Hotel.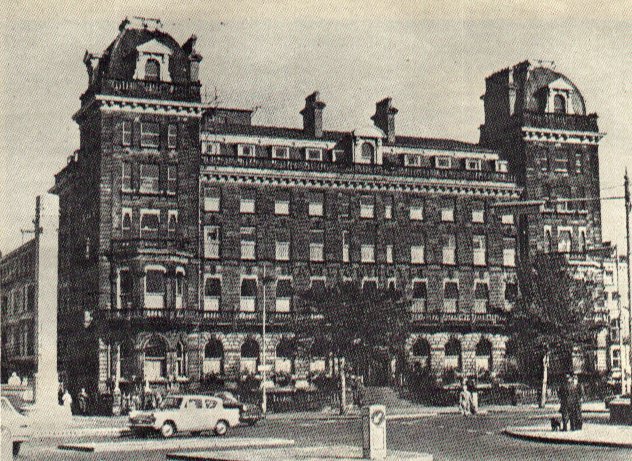 From a very early age, Charles knew he wanted to become an actor. At the age of 14, whilst attending the Jesuit public school, Stonyhurst College, he made his acting debut playing a rotund innkeeper, in his school's production of "The Private Secretary". In 1915, wanting her eldest son to take over the family business, which had been started by Charles's paternal grandfather, Eliza insisted that Charles leave Stonyhurst to train at London's Claridge's Hotel. In 1917, like so many young men of his time, he was called to serve his country during the onset of WW1. Being the sensitive young man that he was, this experience left not only physical scars, but emotional scars as well. With the passing of his father in 1924, Charles returned to London to begin his acting career. He entered the Royal Academy of Dramatic Art that year. In the two years he studied there, he received much acclaim for his work and, in 1926, he received that year's Bancroft Gold Medal for the finest actor the Academy had produced within a one year period. As a result of this honour, he entered the professional theatre with a degree of self confidence, something he had never really known before.
Whilst performing in the 1927 play, "Mr.Prohack" in London, Charles met Elsa Lanchester, who was also performing in the same play. On 10 February, 1929, they were married at the Registry Office in London.
Charles and Elsa made their first voyage to the United States in September, 1931, as Charles was hired to reprise his London theatrical role of William Marble in "Payment Deferred" for the American stage. Over the next 19 years, they lived and travelled back and forth from California to England with occasional stops in New York. On 28 April, 1950, they became U.S. Citizens.
In addition to his acting career, later on in his life, Charles became a prolific oral reader. He began reading aloud at the Birmingham Hospital, located in the San Fernando Valley, California, to Allied soldiers wounded during World WarII. It was his way of contributing to the war effort. After the war, though, he still found time for an occasional public reading, punctuated with anecdotes, and performed the unlikely feat of holding a television audience spellbound when he read from the Bible on Ed Sullivan's "Toast of the Town". A few recordings were made of Charles' readings and anecdotes, but all are apparently out of print.
In January, 1961, whilst recovering from a gallbladder operation that was done in August, 1960, Charles fulfilled a life long dream. He travelled to Japan and Hong Kong. Arrangements were made for him to see the gardens in Kyoto, meet the Shinto Priests and to visit the temples. He loved Japanese art and all things Japanese; he always felt akin to the Japanese people for their quest of inner peace.
His other passion in life was art. Not only was he a teacher, but a connoisseur as well. At the time of death, his collection included pieces from Morris Graves, Nicholas de Stael, Alfred Manessier, Sir Matthew Smith, Siqueiros, Pierre Soulages, Vieira da Silva and Pre-Columbian. His collection was sold in 1966 to Parke-Bernet Galleries, much to Elsa's dismay.
After a year of fighting cancer, Charles passed away in his Hollywood home on 15 December, 1962. Charles was buried 17 December, 1962 at Forest Lawn Cemetary, Hollywood, California.
In his 35 year acting career, he performed in 41 plays and 55 films. Of his 55 films, he is most fondly remembered for his performances as Capt. Bligh in "Mutiny on the Bounty" [1935]; Quasimodo in "The Hunchback of Notre Dame" [1939]; and King Henry VIII in "The Private Life of Henry VIII" [1933] for which he won that year's Oscar for Best Actor.

{Last Modified: June 15, 1999}